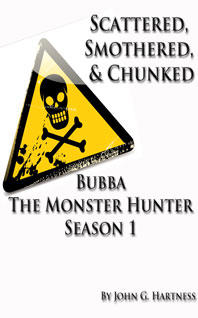 He's big, he's bad and he's here to save the day, Bubba The Monster Hunter.
These stories feature the three "B's" of fine literature:
Beer,
Boobs,
and Blood.
Add the fourth B for Bubba and you've got a rollicking good time! He may be butt-deep in goblins and running low on bullets or on the trail of a bigfoot in the Virginia mountains, it's all in a day's work for him! Agent Amy Hall joins him in the mayhem, but Bubba's not sure if that's a good thing or not. One thing he is sure of - there's a monster loose in them there hills, and he's the biggest, baddest monster hunter around!