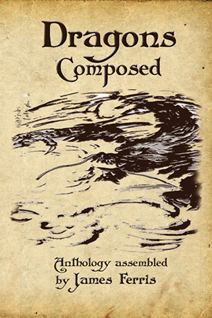 Dragons!
Dragons are in a single word, fantastic! They are ubiquitous across the globe. They are featured in art and literature throughout the ages. Dragons can be the living embodiment of all that is dark, frightening, and evil. At the same time, they can represent harmony with nature, the wisdom of the ages, strength, bravery, and so much more.
Dragons can be great snakes or very small in stature. They can be huge reptiles or so immense that they are the very elements of the earth and heavens. Dragons are even immortalized in the stars.
Dragons mean so much to so many people. They fill our stories and teach our lessons in myth and fables. Dragons fly, walk, and swim through our daydreams and nightmares. Lose yourself in fantastic worlds where dragons are real!
Enjoy a sample. Click the link and the pdf will open.
Cankerous the Dwarf
---
Featuring:
Windsong Levitch * C. R. S. Bailey * Anne Barringer * Everette Bell * H. David Blalock * Salvatore Buttaci * Albert Coelho * Dwayne Debardelaben * Linda Donahue * Stanley T. Evans * Jackie Gamber * Allan Gilbreath * J. L. Graham * Jonathan Wolf * Charles Gramlich * Sara M. Harvey * Trudy Herring * Teresa Howard * Elizabeth Huval * Aaron Longoria * Lindsay Moore * Brian G. Murray * David Nora * Jeff Parish * Herika R. Raymer * E. J. Reneau * Trent Roman * Matthew Schwartz * Bill Snodgrass * Angelia Sparrow * David Stieler * C. A. Verstraete * Carl Walmsley * Joy Ward
---
C. R. S. Baily is the 2010 Darrell Award Winner for Best Short Story for
Tamer
!
Jackie Gamber is the 2010 Darrell Award 1st Runner Up for Best Short Story for
The Time Scar
!
David Blalock is the 2010 Darrell Award Honorable Mention for Best Short Story for
Here There Be Dragons
!