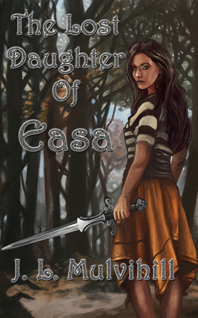 After falling through a portal, seventeen-year-old Elsie Lind awakens with amnesia and lost in a forest. She must draw on her instincts of self-preservation to escape ravenous wild beasts, goblins, demons, and a dark witch who knows the secret of her past.
Locked deep within Elsie's mind are haunting dreams and childhood memories that hold the key to her survival. She is now in the battle of her life; the struggle to claim her identity. However, bad choices and trusting in the wrong sort of guidance leave her a criminal on the run. Now, in this medieval realm where magic influences technology and beings of folklore are as real as the demons they fight, an ancient threat endangers the entire land. Her struggle allies her with two brothers conflicting with their own character flaws and dislike for each other. Between these three unlikely companions, an evil must be stopped before its power takes hold of Authora and The Lost Daughter of Easa.
Enjoy a sample. Click the link and the pdf will open.
Chapter One
Enjoy book two of the series.
Return to Easa