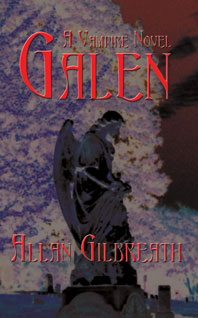 Galen
is the story of an ancient vampire and the two women who enter his life. The first, Maggie, is determined to destroy him in the name of revenge. The second, Brenda, is seduced into the life of the living vampire. Their interactions make for a suspenseful and erotic ride through Galen's dark world.
Allan Gilbreath takes the classic vampire motif to a whole new level. He spins the familiar legends into a distinctive shape. What really makes this novel work is Gilbreath's astounding attention to detail. Even the most mundane scenes shimmer with a luxurious light, and the entire story overflows with sensual imagery.
Allan Gilbreath links fantasy with danger and satisfaction with death to excellent effect, and the plot tension between the various characters sets a wonderful stage for the little details that bring it all to life.
Galen
holds great interest for fans of horror and romance, especially with the kinky edge that characterizes the best vampire erotica.
Enjoy a sample. Click the link and the pdf will open. Chapter One - Galen
Listen as Allan Gilbreath reads the introduction from his award winning book, Galen.