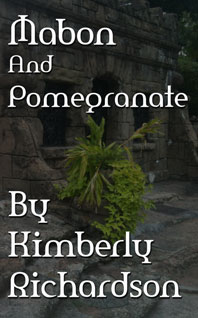 Kimberly Richardson, award-winning author of "Tales From a Goth Librarian", explores what happens when the realm of myths and legends collides with modern society in two compelling and captivating novellas.
Mabon:
What would you do if you discovered that your dreams were real? Monica had no idea that moving to the small town of Mabon would be the answer to her prayers, and yet so much more...
Pomegranate
:
Alexandra has it all: a great job, a wonderful husband, and very few worries in the world. Yet, when a black clad stranger enters her life, she is suddenly thrust into a world of myths and legends all contained in the skin of an infamous fruit.
Enjoy a sample. Click the link and the pdf will open. Chapter One - Mabon