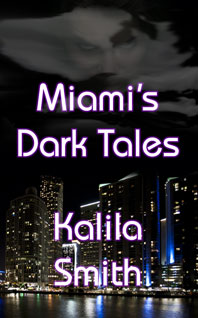 Delve into the dark mysteries of Miami and South Florida with world-renown author Kalila Smith. Follow the turbulent history of one of the most popular tourist destinations in the world and uncover its mysteries. Explore the hidden treasures of pirates who once used the Florida coast as their base of operations. Follow the trail of strange creatures and deadly monsters deep into the Everglades. This book is a wonderful compilation of the city's most haunted areas and strangest mysteries. Explore the truth behind some of the most bizarre and macabre true crimes of Miami and the Keys. Relive stories of undying love, passion, betrayal, and murder. Read the shocking memoirs of the real Dr. Frankenstein. Step into the minds of some of the most twisted serial killers in our history as they recount their heinous crimes in their own words. This is book is definitely not for the faint of heart.
Find out why Miami is one of the most unusual cities in North America.
If you dare!
Enjoy a sample. Click the link and the pdf will open.
Gangster Paradise
The Tales:
Gangster Paradise * The Devil's Triangle * Crimes of Passion
Serial Killers * The Devil Made Them Do It * For God's Sake
Local Haunts * Haunted Hotels * Haunted Houses
Tropical Poltergeist * Ghosts of the Glades * Strange Creatures
Real Monsters of the Everglades * Visitors from Afar * Close Encounters
The Mystery of Coral Castle * The Lady in Blue * Haunted Highway
Island of Bones * Spirits of Key West * Memories of Papa
Haunted La Concha Hotel * Ghosts of the Gulf * Geiger's Ghosts
Dolly Dearest * Strange Love * Resurrection
---