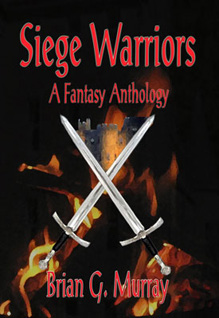 British Import!
Lose yourself in twelve very different stories that will take you on a surprising ride into the anatomy of a siege. These unique depictions are told from a wide variety of points of view and motivations. Survive along with the different warriors as they explore what it means to be under siege.
"Why an anthology about sieges?
I was asked, 'Why don't you write siege stories from different points of view?' Hmmm, I thought, why not? The seed was sown and plots stirred. It seemed that with each story I completed, a new idea formed until this anthology was complete. Twelve different stories that challenged my creativity and I hope will make you laugh, cringe, cheer and cry (I did writing them). I hope to take you on a surprising ride with these unique depictions of a siege."
Brian G. Murray
Enjoy a sample. Click the link and the pdf will open.
Fodder
Fodder
- Welcome to the grist of a medieval siege.
Saboteur
- Anyone could turn out to be the saboteur.
Hostage
- Bandits of the old West.
Healer
- A healer's point of view.
Assassin's Aim
- A feared and key player in every conflict.
Besieged
- Modern pop television meets real demons.
Death's Reaper
- The Reaper performs his service.
City Reserves
- Conflict impacts more than the soldiers.
Death Clock
- There is never enough time.
Scavengers Need to Eat
- Even vampyres can fall.
Cream
- It is all about tatics.
Patience
- Is it all truly a game of patience?
---
Siege Warriors
is an Award-Winning Finalist in the Fiction: Short Story Fiction category of the 2010 International Book Awards, sponsored by USA Book News.