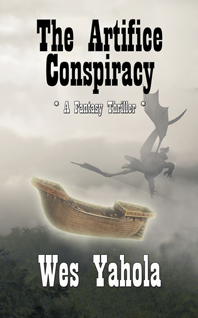 Magic and Sabotage
A spy sabotages the demonstration of an experimental magical airship. The explosion kills nearly a hundred people. Among the dead are an imperial princess, a bishop, and most of the family of the wizard Lord Harlow Tammadore, cousin to the airship's designer and himself an arcane consultant on the ship's ground breaking propulsion artifice.
Teaming with the Imperial Knight Zorrah Pestle, charged with bringing the perpetrator of the deaths to justice, Harlow seeks revenge for his family's death.
Together, Harlow and Zorrah uncover a conspiracy involving a rebellious prince about to undergo a ritual that will make him an undead of unspeakable power, a mysterious dragon with a secret agenda all his own, and the development of the most powerful weapon of magic the world has ever known.
Enjoy a sample. Click the link and the pdf will open.
Chapter One