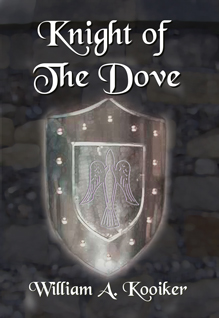 Amaria Eversvale, The Knight of the Dove, is a ruined woman. Once a proud soldier and icon of the Illidor army, her life has been tragically altered forever. She seeks to escape the lamentable deeds of one fateful night, but soon discovers that no amount of distance can remove the stain embedded upon her soul. In avenging the brutal murder of her husband, she had called upon the dark gods and committed a massacre at Erdoth Fortress. Now a victim of the dark god's sinister whispers, her life has become a constant struggle to ignore the temptations and promises of evil.
William Kooiker's writing style will engage you from the very first few pages. He creates a rich world populated with complex characters that readers will appreciate as the the plot unfolds in vivid, living color.
Enjoy a sample. Click the link and the pdf will open.
A Dove Before Dawn
---

Knight of the Dove
is an Award-Winning Finalist in the Fiction: Fantasy/Sci-Fi category of the 2010 International Book Awards, sponsored by USA Book News.