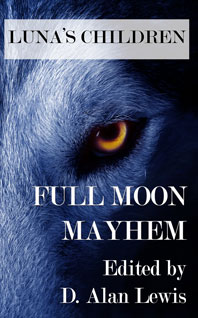 Fear The Full Moon!
For countless centuries, mankind has watched as the sun goes down knowing that Luna will rise in its place, to rain her brilliant shards of light upon the Earth. But for the cursed and afflicted, that silvery orb brings horror and death.
Luna's Children: Full Moon Mayhem
is a collection of 22 stories of the werewolf. From the halls of a local high school to the bowels of a Civil War-era church, from the deserts of the American Southwest to the distant lands across the seas, from the horrors of the first kill to a lycanthropy support group,
Full Moon Mayhem
explores the many stories and possibilities of werewolves in the modern world.
The Tales:
A Balance, Beastly and Bloody by Tommy Hancock
Painted Wolves by Nerine Dorman
Truth or Darren by Angela Bodine
The Beast by Chuck Miller
Cry Wolf by by M.R. Williamson
Eat Your Peas by Robert J. Krog
Sheep in Wolves Clothing by Luke Woodward
Into the Woods by Carson Buckingham
To Err is Human by Rachel Anne Blackmon
Bayou Loup by Kalila Smith
The Study Break by Miracle Austin
The Sponsor by J.M. Perkins
Newborn by Mike Rhodes
The Last Lamb by Alexander S. Brown
Gooji by Amy L. Herring
Night Run by Rachel A. Brune
Moonburn by Stephen McQuiggan
Fierce by Rob Cerio
The Children of Gennhara by Herika R. Raymer
Valeria's Choice by Susan Burdorf
Hound of God by James S. Hoch
Beta Male, Alpha Wolf by Jeremy Hicks
Enjoy a sample. Click the link and the pdf will open.
A Balance, Beastly And Bloody