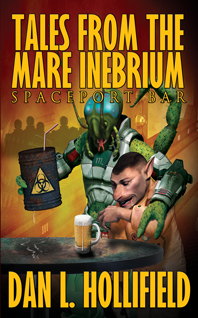 Welcome Intergalactic Travelers
Come on in and enjoy the Mare Inebrium. We have a large facility and are sure we have something that will meet your needs and exceed your expectations. In the top floor of our building we have a very fancy restaurant with lovely views of the city spreading out into the far distance. The floors above the main bar contain various restaurants, shops, meeting rooms, and we even offer hotel rooms for the discriminating traveler.
Our main bar is quite large, with room for several hundred patrons at once. The walls are decorated with paintings and mirrors that can shift to show either reflections or discrete views inside one of our many themed bars. Our displays of alien artifacts are scattered about tastefully throughout while the full bar itself is up against the back wall of the main room. Our main bar features literally hundreds of varieties of beverages to meet any tastes no matter how exotic.
If open spaces and large crowds are not to your liking, then please patronize any of our wonderful themed areas. If you prefer with a bit more of an adventurous edge, please join the many Space Rangers and other militaries from around the galaxy in our Red Dog Saloon. If you desire a more private and civilized setting, please join our "gentleman's club" at Piper's and our small ballroom is the perfect place to take in a musical or theatrical performance. For you truly celestial types, deities, writers, artists, and other beings of enormous power, you will enjoy the Pantheon Room.
Enjoy a sample. Click the link and the pdf will open.
Welcome To The Mare Inebrium Spaceport Bar